Designwest Graphics Recognized by Cambridge Who's Who for Excellence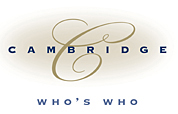 "Designs, both creative and innovative, convey clear and concise messages."
Designwest Graphics has been recognized for showing dedication, leadership and excellence in website and print graphic design. Prompted by a lifelong passion for art and design, Ms. Alexander has built a remarkable career defined by multiple highlights. Before founding New York Designworks, which later evolved into Designwest Graphics with a move to California, she was Art Director for the New York City National Headquarters of the American Cancer Society, Designer and Editor for Reader's Digest Books, and in Production for Esquire Magazine. Now at Designwest Graphics, serving an international clientele, Ms. Alexander delivers professional, personalized attention to all clients and delivers a wide range of services, from web site design, updates, website hosting and graphic design to copywriting, interactive catalogs, ecommerce, radio advertising, advertising design and placement.
Designwest Graphics Websites Clientele: International, National, California, San Francisco and the San Francisco Bay Area, Alameda, Berkeley, Oakland, Worldwide.
Pro bono work includes website design for the Treasure Island Museum's Golden Gate International Exposition Online Museum, the Dreamcatcher Youth Shelter, and Orphan Acres Equine and Rescue Sanctuary.
Ms. Alexander, of Designwestgraphics.com, studied graphic design at Harvard University and the School of Visual Arts in New York City. She is a graduate of Russell Sage College with a B.A. in Fine Arts. Ms. Alexander's website design has been honored with inclusion in 2000 Outstanding Artists and Designers of the Twentieth Century, Who's Who of American Women, and the San Francisco Ad Director's Club.
(read more...)
Designwest Graphics Receives Best of Award

Designwest Graphics, graphic designer, Barbara Alexander, has been selected for the Best of Alameda Award in Computer Graphics Services; web site design, print graphic design, by the US Commerce Association.
Each year the USCA website honors companies they believe have achieved exceptional marketing success in their local community and business category that enhance the positive image of small business through service to their customers and community. Designwest Graphics serves a National and International Clientele.
Ad Network: Complimentary Advertising for All New Clients
Your ads, and links to your web site will be posted for three months at no cost as we develop a win-win network of clients, colleagues and customers.
Managing a WordPress website can be intimidating. From backups, to updates, there is always so much to do. That's why stressfreewp does it all for you with our
WordPress Concierge
service. It covers everything from daily backups, a premium website firewall, advanced SEO analytics and even development hours to fix bugs and get help with your website. We take care of WordPress so that you can do what you do best.